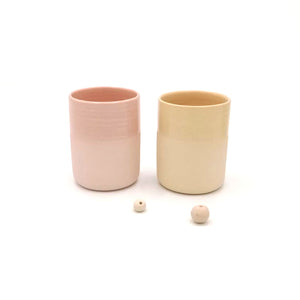 Simple, elegant pieces that bring a sense of joy, harmony, inspiration and balance. Playing with colors, shapes and textures to create pieces that are sensory experiences to hold in your hand. Each piece is made with care, it's a unique work with a thought-out intention and something special to use in your home.


Materials / Dimensions
– colored stoneware tumblr cups, transparent glaze, ∅ 7 cm H 9 cm
Light orange, Rose poudre


Features
– Each piece is handmade and unique
– Stoneware and Porcelain are dishwasher safe
– Can handle heat up to 200 °C


All Cecile*M products are handmade in Portugal. Irregularities in size, glaze and texture are nothing more than birthmarks of the process. These imperfections should be embraced as they make your ceramic pieces uniquely yours.